The Geek Letter #5: Preparing For Content Batching
Hey Dragons! How are you doing this fine Friday? It's time for another letter.
It's another rainy but hot day in Austin, Texas. It's frustrating because I can't wear long sleeves. After all, it's hot, but I also can't wear short-sleeves because I'll get wet if I go outside. An umbrella could be an excellent solution, but it seems that it's hard to find one even in Walmart in the middle of summer.
Tomorrow starts nine days in the Jewish culture where we mourn the destruction of the great temple in Jerusalem - twice. Therefore, we have special mourning restrictions. There are no marriages, no celebrations, and people don't even listen to music. Well, not all Jewish people follow this tradition, but many do. It ends with Tisha B'Av, a 25 hour fasting day commemorating the day that the temple was destroyed.
In terms of content, people usually won't make any special announcements during these days. I will keep writing these days and keep working on my Ghost course, but I won't launch it during this week even though I am close to making an MVP for Preorder.
I'm also preparing for the week after Tisha B'Av when I'm still here in America but am on vacation from work. I will be able to batch content for my Insta, my blog, and YouTube, too. I hope it works out because, honestly, I'm procrastinating. I might have to make a list of short tasks that will keep me motivated.
In the meantime, if you haven't accessed the free Ghost Publishing 101 course yet, you can grab it below. I'm going to add more lectures to it to maximize the value that I give with this course: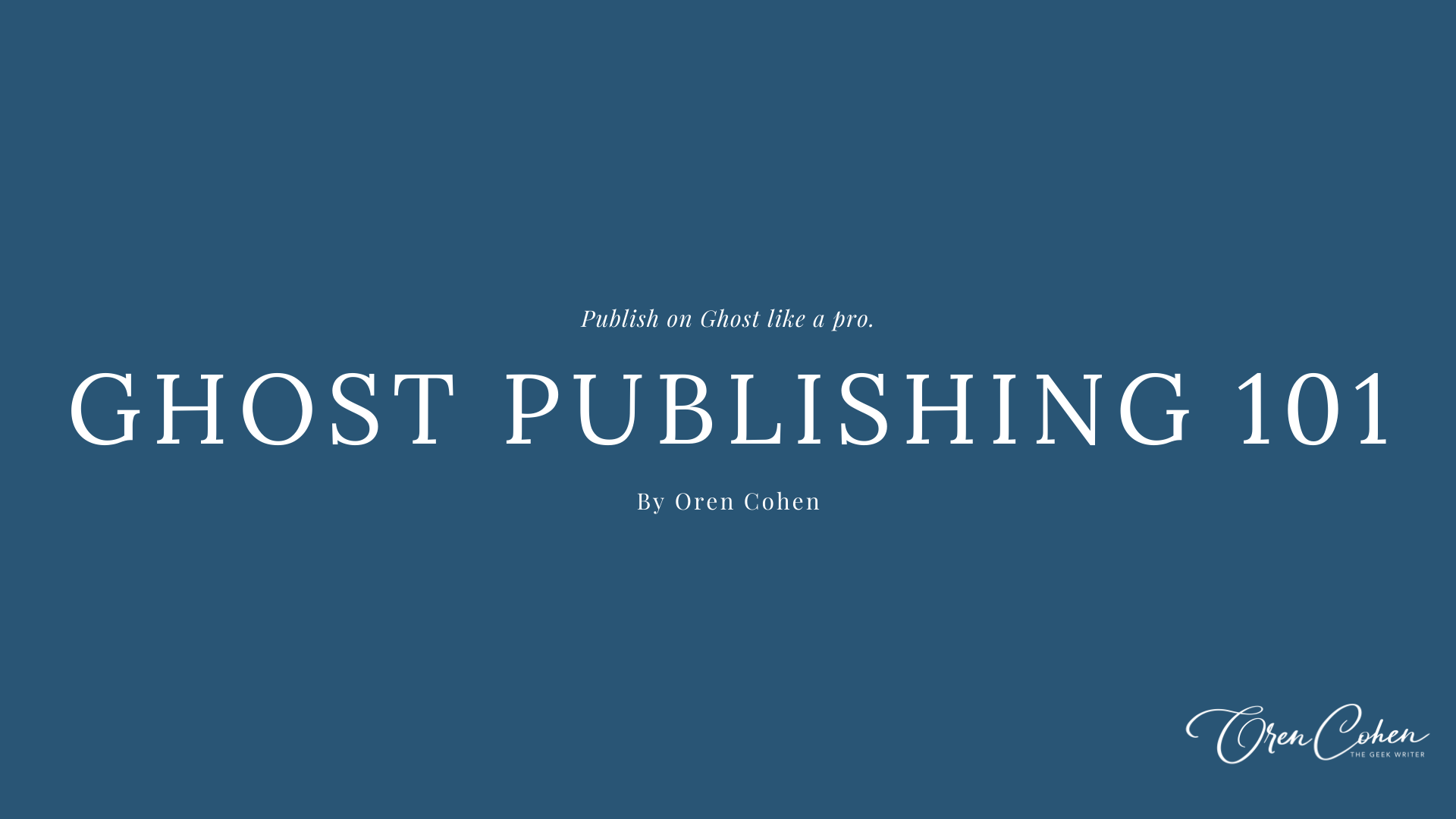 Also, if you missed it, I published the prologue to my Fantasy story last week. It's a working draft that I'm trying to write more consistently. So, for now, here is the prologue:
https://ko-fi.com/post/Dragon-Sovereign--Prologue-T6T556DBX
In terms of Dimension 20 content, I just published my Review of Misfits And Magic Episode 1 a couple of days ago. I will review Episode 2 (which came out two days ago) in the coming days, too. I always watch these episodes twice. One time for pure joy and immersion, and the other time to take notes for the review.
Here's the review of Episode 1:
Now, there's one more issue I wanted to share with you today, and that is my Friend's GoFundMe. Shannon Ashley is a great writer who suffers from Lipedema, a terrible disease that restricts her freedom of movement, and if not treated soon, could threaten her life. She needs our help in funding surgery to remove the Lipedema tissue from her body and probably save her life. You can find more information on the GoFundMe page below. Feel free to give as little or as much as you can. Every cent counts.
From My Bookmarks This Week
I read an excellent article from Eva Grape this week, and I want to contrast it with another. From the one side, we have Zulie Rane - a very successful writer living the dream of a concise work week and no day job. She wrote an article motivating people to use the free time that they have from their day job to work on their own thing. You can read that here:
On the other side, you have Eva Grape, who read that article and provides an alternate point of view that "cheating on your day job" is unethical. You can read that here:
As a content creator myself and a person who provides content for other (geeky) content creators, I believe we must wrestle with these two viewpoints and see where we stand. My day job is writing code, and for the most part, if the job gets done fast and well, nobody checks how long it takes me to do it. However, I'm also an HSP, and "cheating on my day job" is a level of anxiety I can't bear.
I'm wondering where you stand on this intriguing intersection. Do you lean more towards Zulie's approach or to Eva's? Let's talk about it in the comments!
Thank you so much for reading, and I will talk to you soon! :)
Oren
Oren Cohen Newsletter
Join the newsletter to receive the latest updates in your inbox.
Comments
Sign in or become a Oren Cohen member to join the conversation.
Just enter your email below to get a log in link.
---