The Geek Letter #4: New Inspirations
It's that time for the geeky letter again. And today let's talk about inspirations.
Hey Dragons!
It's that time for another geek letter (even though a bit later than you're used to).
So, I'm writing to you from the beautiful but weather-challenged Austin, Texas. We arrived at my brother's house two days ago - and it's crazy that two days have passed so quickly!
I was working remotely during the mornings with the team back in Israel, and it's been strangely liberating knowing that I start my workday at 7 AM, finish it by 4 PM, and then still have a pretty open day to do things.
Back home, I always fought the urge to start work early because I thought that my creative juices would dry up during my workday of writing code. And it pretty much did - I haven't written a lot during the after-hours during the last couple of days.
I know I have about a week at the end of this trip which is a pure vacation from work, but now I have a different dilemma which I'm sure you as a creator faced as well: do I work on my dream during that time, or let myself recharge?
Well, here are three reasons why I'm going to work on my dream instead of recharging:
Recharging now would mean delaying my future even more - I have yet to create a reality where an additional income stream covers my expenses and frees me to choose my destiny.
My current reality of working from Austin in the mornings and having a relatively open day is pretty relaxing. More relaxing than my reality in months.
I'm impatient to change my life - I've done a lot of things wrong. I will be 34 in two months, and I still haven't built a life of my own. I don't own anything besides my computer, website, words, and other digital assets. And I'm tired of people putting expectations on me that I can't fulfill.
These are my reasons for working during a vacation. No matter how small, you need to do one thing towards your desired future every day.
Today it's writing this letter, and tomorrow it's releasing a course or writing a fantasy book.
I don't want to live a life where money guides my destination - that's never a good place to be. Money should work for us, and that's the problem with us millennials - we didn't get the proper education to make that happen from a young age. Every 12 year old on TikTok also owns a YouTube channel worth tens of thousands of dollars (at the very least) each year. I've never seen that much money up close before.
Do you feel the same way? I wonder if it's just me who has this weird need not to shackle myself to a workplace or a bank account. I've done that too much by now. I want to stop being afraid to take risks with my life. Every boss I had in the high-tech industry has already sold a company and was there purely for fun.
Imagine what it's like to know you never need to worry about money, and you can choose to work wherever you want without risk of being homeless or having nothing to eat.
I know some people don't care about that kind of thing. Maybe it's a life lesson type of situation. But for me, as a person who had lots of debt and for many years, that debt forced me to make certain decisions, the thought of not having to worry about it any longer is freeing beyond measure.
In any case, I chewed your ear about that for long enough, so now I will send you off to your weekend with a few minor updates :)
Would you mind sharing what you think by replying to this email or commenting on the blog? I look forward to learning your thoughts about money and how to manage it.
Thanks for reading!
Oren
Native Comments on The Blog
I did some updates to the blog. The first update was the theme which now includes a bold call to action to sign up if you've never visited before.
The other is Cove Comments - a plugin that supplies "native" ghost comments. That means you can now sign in to the site with your account (using the address you're receiving this email on) and comment without signing up for any additional service. I did that at the cost of a handful of other comments on my previous plugin.
New Fantasy Story on Ko-Fi
I published the prologue of Dragon Sovereign, a fantasy story I'm working on, on my Ko-Fi page. You can read that here:
https://ko-fi.com/post/Dragon-Sovereign--Prologue-T6T556DBX
Ghost Publishing 101 is Still Open for Enrollment
The free course is still open for you to enroll and start using Ghost as your blog! Sign up here: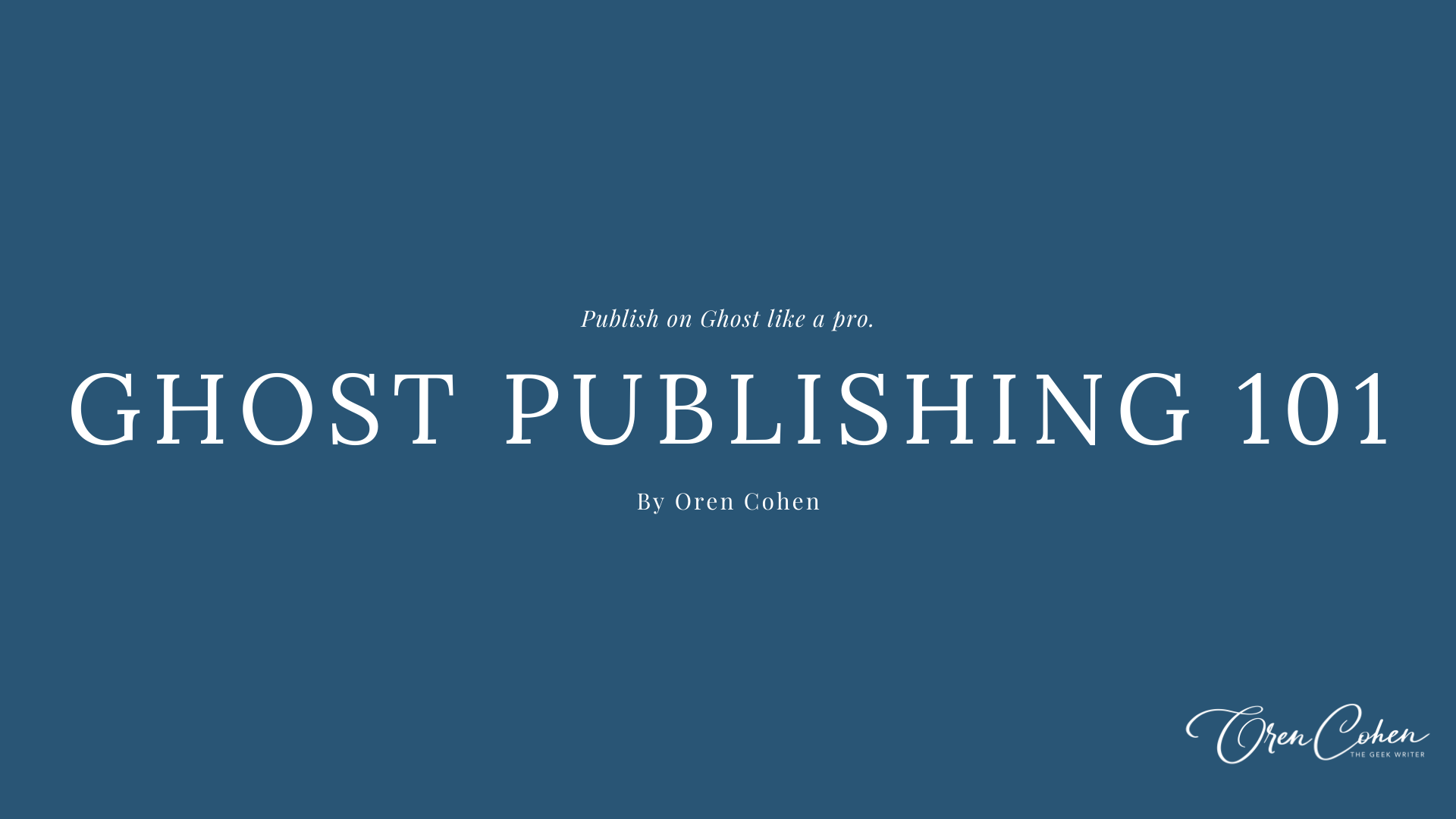 Dragon Creators Community
I'm going to start using the community more to share updates now that it also has a chat feature!
Here's your invite link (it's free to join!):
Sending lots of love your way, and thank you for reading! See you next week!
Oren
Oren Cohen Newsletter
Join the newsletter to receive the latest updates in your inbox.
Comments
Sign in or become a Oren Cohen member to join the conversation.
Just enter your email below to get a log in link.
---