The Geek Letter #1: Things I Missed Out On
I decided that my weekly email to you is going to transform into a goodies email. I'll tell you a bit about what's going on in my life while also sharing with you some awesome things I found on the internet.
For the past several weeks, I've been sending you a new article every Friday. On the positive side, I felt like I was productive. I had at least one article written a week and sent to you.
Things were looking great until they didn't anymore.
I felt like I was missing out on the human connection I could have developed if I talked to you more instead of doing my due diligence to send you an article and be done with it.
So, I decided that my weekly email to you is going to transform into a goodies email. I'll tell you a bit about what's going on in my life while also sharing with you some awesome things I found on the internet.
The loose structure of these Friday letters would be a personal message from me, and then afterward, it's going to change. I know I'm going to share links to other people's works that inspired me this week. Maybe I'll share some YouTube videos useful for Content Creators, and perhaps I'll share some sales and gifts.
Above all that, I invite you to engage with the emails and develop a conversation with me. If you're interested in starting a conversation with other people, you can also do that in the Circle Community for this website which I'll mention below.
So, now that we got the logistics out of the way, how are you doing, my friend? How has your week been so far?
I just watched the finale of Dimension 20's Mice And Murder yesterday, and it was amazing! If you don't know Dimension 20, it's a D&D TTRPG game show on Dropout.tv - CollegeHumor's streaming service.
It was so good!
I plan to write a review of the entire season and publish it sometime this week.
In addition, I also sent Dave Justus - the writer of the Lifeline series - some questions about the games and the revival that we saw last month. If you don't know the lifeline games, they are a series of mobile text-based adventures where you chat with people across the world (and maybe outside the world) and help them survive. Dave is such a good writer that these games feel like talking to a person on the other end. Worth a try!
Yesterday, the first episode of Loki came out. I haven't seen it yet, so no spoilers! Nevertheless, I'm glad to see the marvel cinematic universe continue to survive even after the pandemic. Have you seen the show? Was it good?
Pandemic-wise, I'm currently sitting in a mall with a mask on my face, and it's full of people without any other restrictions. Here in Israel, we are going to cancel the requirement for a mask indoors next week. Then it will indeed be back to normal for us. On the positive side, I'm happy we're coming back to normal. On the other side, there are still many parts of the world that struggle with the pandemic. My heart goes out to millions of people in India who still suffer or lose loved ones every day.
How is it where you live? Do you have access to vaccines? I hope you have what you need to take care of yourself and yours.
I also created a new course about blogging with Ghost! Below you'll find information about it and some other stuff I felt worth sharing with you this fine Friday.
And the final minor update is that I have a new design for the blog! I'm so happy about it! I still have some bugs to fix, like images appearing twice because of a hack I used in earlier designs - but overall, it's looking excellent! Visit the blog to check out the new design!
Now onwards to more significant updates!
---
Grammarly Now Available on Ghost
The latest update to the Ghost platform introduced a long-awaited fix to an old bug that prevented the Grammarly browser extension from working with Ghost.
I've been waiting for this fix for a long time. It's tiresome to write all of your blog posts on a different editor only to have to move them to Ghost and then reformat the whole thing. Now it works like a charm!
One note, though: I noticed it takes a while for the Grammarly icon to appear when you're writing your blog posts. So, if at first, you don't see it - don't worry, keep writing. It will appear and start suggesting edits once you have some content written.
---
The Geek Writer Academy
I have opened a School with Teachable and started working on courses! Currently, I offer a free course about blogging with Ghost, which you can grab right here: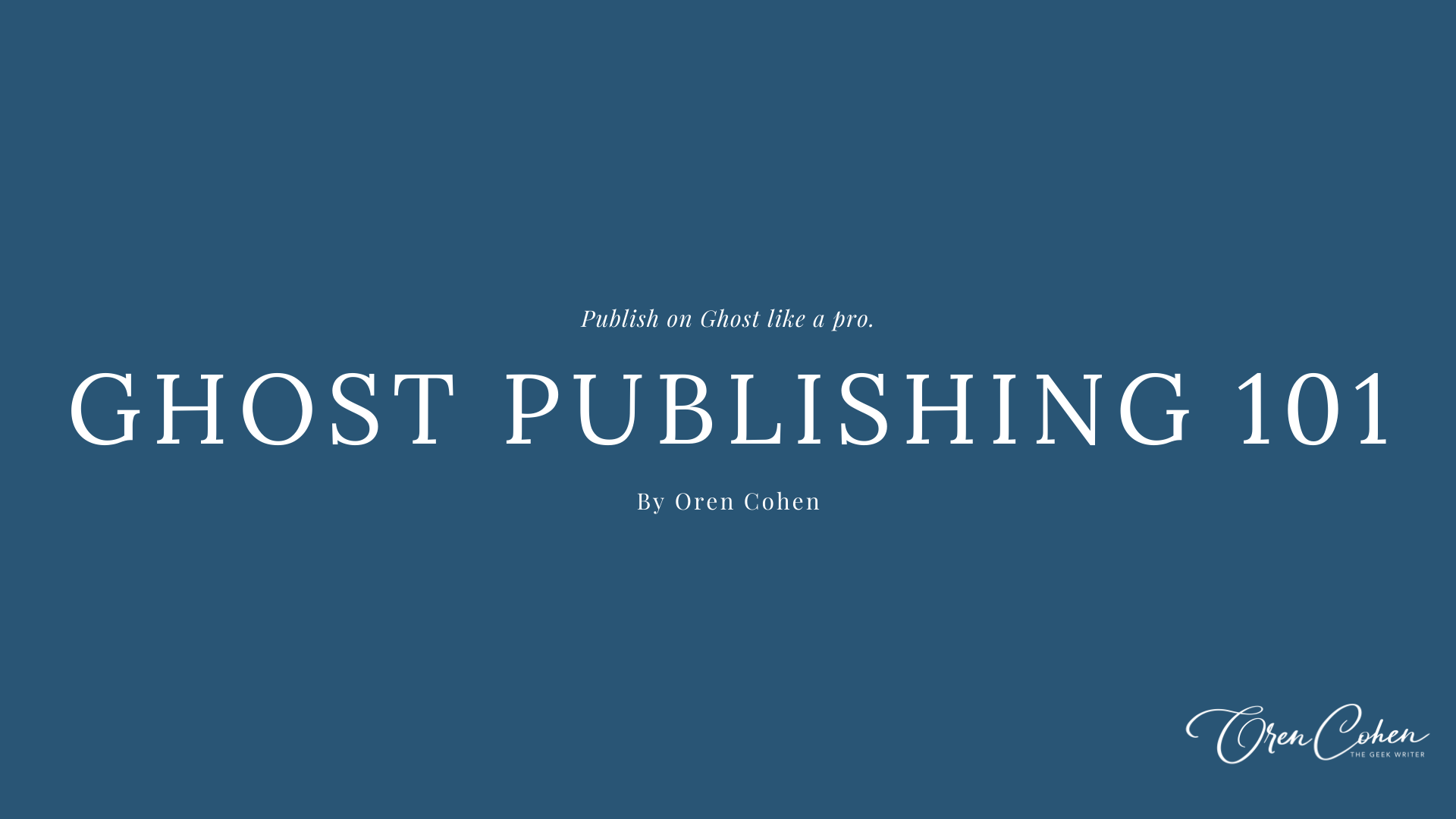 I plan to record more courses soon, with one of them being paid and more extensive for content creators starting their blogging journey. I'll have some info about that in the following letters for sure.
I Opened a Ko-Fi Page and Started Publishing Fiction
Currently, I'm working on public drafts for two stories. One is a Science Fiction story that I'm calling "Descendent." It's about a distant future in 2200, and in that era, people can exchange bodies like they exchange underwear. Here's chapter one:
And the other is a Fantasy story set in my Dragon Empire world. It's a world that's been sitting in my brain for seven years. It's time to let it out! I'll have chapters for you next week! :)
Please tell me what you think of Descendent in the comments below or by replying in the mail! (or on Ko-Fi itself, if you like!)
---
Interview with Shannon Ashley - One of Medium's most prominent writers
Zulie Rane is one of my favorite YouTubers. She's talking about content creation with a focus on Medium as her platform of choice. In a sense, we're supposed to be rivals because we both vie for the attention of a reasonably similar audience. I build my existing audience from Medium and from doing contests. I have also written an email course to draw leads from Medium to my email list.
And yet, I find that by sharing each other's work and generally being supportive instead of competitive, creators can both benefit and grow. So that's why I don't treat Zulie or any other content creator, for that matter, as a competitor. And besides, customers shop for a voice, not the info. When they buy your stuff, it's because they want YOU and not necessarily the information they could very well find anywhere else.
So, Zulie interviewed Shannon Ashley. A writer I've been following since 2019 when I joined Medium. She asked her many questions about the platform, the future of writers on Medium, and generally about her journey. If you're interested in writing on Medium, watch this interview:
---
From My Bookmarks This Week
Here are some articles I bookmarked this week that you might find helpful, too!
I am a highly sensitive person and an introvert. I'm always drawn to articles like this one about how to manage better in social encounters:
Steve Campbell sat with me on a coffee and told me how to become a top writer on Medium in One week. Well, we never actually met but reading this article felt like it. It's interesting to note that the article is from 2018, and yet Medium listed in Editor's Picks. Great suggestions in any case.
Tom Kuegler's latest Blogging tips listicle. If you're going to write a listicle, at least do it right and make your reader feel like it's jam-packed with value. That was what Tom did right here:
And here's Tim denning's piece about customer relationships which I found very interesting:
And finally, Jon Brosio's piece keeps popping up on my Medium feed so I decided to finally read it - and it's very good!
---
That's it for this week!
Have any questions, feedback, or want to chat? You can reply to this email, find me on our Circle Community, or join my Discord server!
Sending lots of love your way!
Oren
Oren Cohen Newsletter
Join the newsletter to receive the latest updates in your inbox.
Comments
Sign in or become a Oren Cohen member to join the conversation.
Just enter your email below to get a log in link.
---